An Easy Risk Free Way to Learn How to Use GnuCash
One way to learn how to use GnuCash is to jump right into the deep end of the pool by creating a system of accounts for your real business. If you make a mistake and enter the wrong amount to the wrong account, you can typically go back and delete it. But the deletion process is not always obvious.
A much better way to learn how to use GnuCash is by creating a fake business account also called a Sandbox account. This way, if you make a few mistakes you can simply delete the fake account and start all over by creating an entirely new account. Set up your Chart of Accounts with your Sandbox Account. Then practice several transactions using fake vendors and fake customers. Once you are confident with how GnuCash works, then delete the fake account by deleting the folder it is in – and then starting over by creating your real business account.
How to Install GnuCash
The easiest way to install GnuCash on a Linux laptop is to click on the Menu, then click on the Software Manager. Then type the word GnuCash into the search box. Then click on GnuCash and click the Install button. However, the Software manager version is 2.6.19 made in April 2018. If you go to the GnuCash.org website, you will see that the most recent version of GnuCash is version 3.4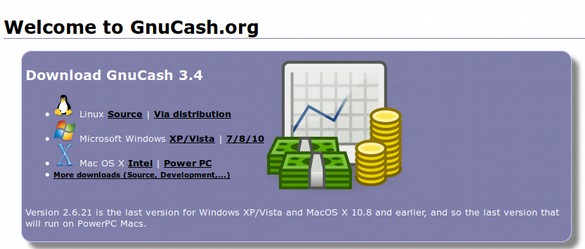 There have been more than 100 improvements to GnuCash in just the past year. It is therefore worthwhile to install the latest version. This can be done by using a Personal Package Archive or PPA. To install the PPA in Linux, go to your menu and click on the terminal to open it. Then copy paste the following line into the terminal.
sudo add-apt-repository ppa:sicklylife/gnucash
Type your user password (no asterisks feedback) when it prompts and hit Enter to continue. Next wait for the PPA to load. Then copy paste the following line into the terminal. sudo apt-get install gnucash
Then enter Y when asked and press Enter on your keyboard. Once installed, you can open the program by going to Menu, Office, GnuCash. Here is the starting screen after closing the Tip of the Day screen:

How to Set Up your Sandbox Business Account
We will set up a Sandbox account called Lemonade Stand Test Account. In the GnuCash top menu, click on File, New File.
Note: What GnuCash calls a New File is in fact a giant folder that all of your business transactions will go it. If you have more than one business, then you will create a different GniCash file (or a different folder) for each business. Clicking on File, New File will bring up the New Account Hierarchy Setup Wizard:

Click Next.
Then click on the Business tab and enter the name of your test business:

Note: To reach this same screen after completing the Set Up Wizard, in case you want to make changes and additions to your Business Account information, in the GnuCash top menu, just click on File, Properties, Business.
For now, just type in the business name. Then click Next. Leave the currency set for US and click Next.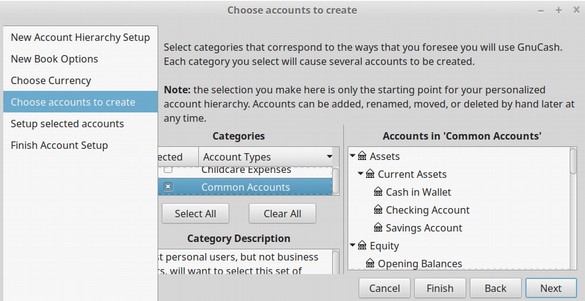 The Choose Accounts to create is an important page. By default, it is set to create a Common Account or Personal Account. We want to change this to a Business Account. So first un-check the Common Account box. Then scroll up to the Business Account and check this box. Then click Next.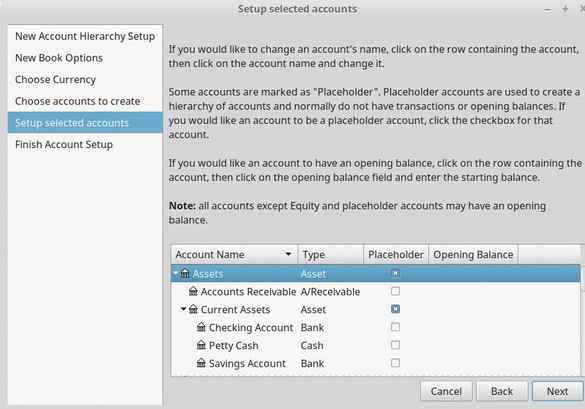 Here we want to add an initial deposit to our checking account. Click on the Checking Account Row. Then move your cursor to the right to be in the Opening Balance column and click on the space to open the box.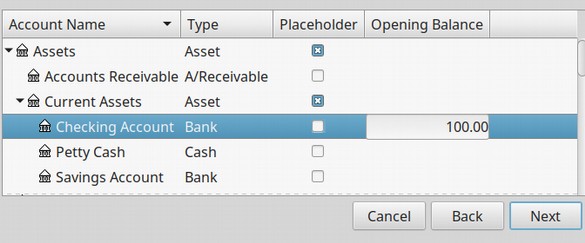 Type in 100.00. Then be sure to PRESS ENTER. Then click Next. Then click Apply. This will bring up your file manager.

Click on the icon on the right to create a new folder.

Name the folder the name of your test business. Then click Create. Then name the file the name of your test business: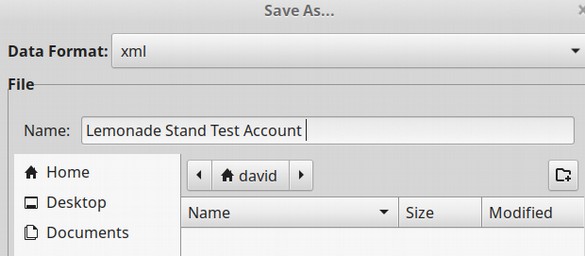 Then click Save As in the lower right corner. This will bring up your Test Business opening screen: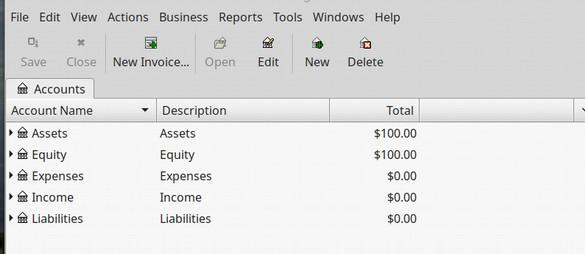 Note that GnuCash has already set up your Big Five Business Accounts for you. GnuCash has also automatically added $100 to your equity. Remember our Accounting Equation: Equity = Assets minus Liabilities.
You created $100 in Assets when you deposited $100 in your checking account. GnuCash automatically adds any deposits to your equity in order to keep your accounts in balance.
What's Next?
In the next lesson, we will learn how to record some simple transactions.