This is a review of the website creation skills we covered in our first course.
Step 1: Open your file manager and create a website root folder.
Call the website root folder My Website. Also create your images folder, Here is what your website folder looks like with the empty website images folder in it. Then close your file manager.

Step 2: Open Bluefish and type your website header and first paragraph.
Here is what the bluefish initial HTML 5 screen looks like: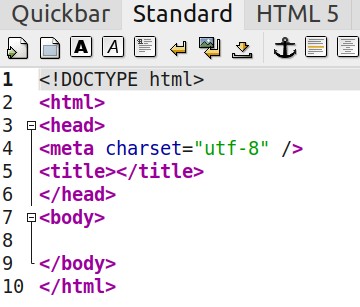 Notice the blank line at line 8. Place your cursor here. Then use the Bluefish Code Completion tool to create your heading tags. Type an opening bracket (shift plus left pointing arrow). Then type a lower case h. Here is what your Bluefish screen will look like:

Select the h1 tag pair (with opening and closing tags) by clicking on it. Then click Enter on your keyboard. Then with your cursor still between the two tags, hit Enter on your keyboard a couple more times to create a couple of lines of space between the opening and closing tag. Then type on Line 9 (without the quotes): "This is my first website!" Here is what your Bluefish screen now looks like: